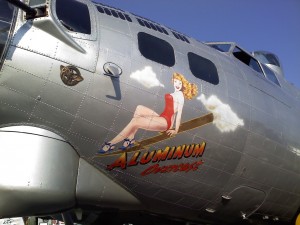 Recently, the Experimental Aircraft Association (EAA) had a tour stop in Columbia, SC, at Columbia Metropolitan Airport (KCAE) for it's B-17, Aluminum Overcast. Our local EAA Chapter 242 was requested to host the warbird at Columbia Metropolitan Airport from Monday, October 18, 2010 through Thursday, October 21, 2010.
The weekday tour stop was not ideal as the kids are in school, folks are working, and the state fair was in town that week. A weekend tour date is preferable, but EAA saves those for the highly lucrative stops in bigger cities. So, we made the best of it.
Tom Roberts and I volunteered to head up the volunteer crew and manage the event in hopes that we might get to fly onboard the B-17. When the B-17 relocates to its next stop and they have seats available, the B-17 crew will offer them to EAA chapter volunteers. So, we put together a great volunteer crew including Tom, myself, Harold Moxley, Gerry Biehl, Xen Motsinger, Ron Shelton, David Graff and Paul Carter. We had never done anything like this before so our lack of experience didn't help, but we managed to host an enjoyable and profitable event.

Tom and I met with Paul Bass, Eagle Aviation's manager, to request to have the event at their FBO. Paul was gracious and helped us tremendously in planning the event. Thanks to Paul and Eagle Aviation for all your help! The even offered the B-17 crew a 66 cent per gallon discount on fuel, which saved them a lot of money.
EAA National hired a media company to call on all the local media including TV, radio and newspapers. Ron made a called and lined up an old veteran pilot so that the media would have someone to interview and develop a story around. Only one local TV station showed up on Monday – media day – as the B-17, Aluminum Overcast, arrived. That was WACH Fox 57. Thanks Fox for coming out and covering the event! I missed being there Monday because I had to work. The chapter volunteers that were there Monday were treated to a free ride on the B-17. Because of the low media turnout, they had plenty of extra seats for volunteers on the media flight. It seems that the local media must have preferred covering the State Fair everyday instead of something like a B-17 warbirds giving them free media rides. Oh well!
WACH Fox 57 aired their story on the 6:30 PM and 10:00 PM reports Monday night. That was enough to get the attention of many local folks as they turned out to see and ride the B-17 on Tuesday and Wednesday.
The EAA B-17 Aluminum Overcast arriving at Eagle Aviation at Columbia Metropolitan Airport (KCAE):

We volunteers arrived Tuesday morning to set up. We met Bo Bowman, the local pilot and representative of Angel Flight, a non-profit charitable organization that provides free transportation flights for patients in need of medical-related transportation. It was a joy meeting Bo. We had emailed a few times before the B-17 visit. He flew in to CAE and set up his booth at the tour sight Tuesday morning. On Wednesday morning, Bob, another Angel Flight volunteer, arrived to man their booth. Bob was great to talk to. I wore shorts the whole event. It was chilly in the mornings but in the upper 80's by afternoon. About the first words Bob spoke to me were, "Are those your legs or are you riding a chicken?" LOL, I was not sure how to take that at first, but every time I think about it I crack up laughing. Thanks to Bo and Bob for bringing such good cheer to the event.
On Tuesday, there were only two flights of the B-17. The rest of the day was dedicated to walk-through tours that folks could buy for $5.00. There was also merchandise for sale and we served sodas and potato chips. On Wednesday, there was only one flight, but we had plently of folks turning out to see Aluminum Overcast. Overall, and considering our minimal media exposure, we had a great event and event made some money for the chapter.
The EAA B-17 Aluminum Overcast crew were a joy to work with. The seemed to enjoy their time here and expressed their thanks for the rental vehicle we helped provide them. They got upgraded from a mini-van to a Suburan! They also liked eating at Lizard's Thicket.
The days came and went and all of a sudden it was Thursday morning. The B-17 crew had told us on Wednesday that they had six extra seats for the relocation flight to their next tour stop in Concord Regional Airport (KJQF) in Concord, NC, just northeast of Charlotte a few miles from Lowe's Motor Speedway.
So six of our chapter members that were able to make the flight showed up Thursday morning and hopped aboard Aluminum Overcast with great enthusiasm. We were: myself, Tom Roberts, Harold Moxley, David Graff, Cantzon Foster and Bob Stearns.
Here we are waiting to taxi for departure:

Now we are taxiing to runway 5 for departure:

Here we go, departing KCAE:

A view from the nose, where the bombarier was stationed:

A tour of the bomb bay:

Back in the aft section – views from the machine gun ports:

Scenes on the flight deck:

Flying northeast of Charlotte, straight into downwind at Concord Regional Airport (KJQF):

Landing at Concord Regional Airport (KJQF):

This was my first time flying about a B-17, a lifelong dream of mine since I was a kid. The B-17 was my all time favorite warbird and now I was able to fly on one. When I stepped on board the first and wandered about the airplane, I pondered what it must have been like to be a crew member during World War II. I cannot express enough gratitude to those airmen who served during that time in our history. And when I stepped off after our flight, I felt Aluminum Overcast become a part of me, and I, perhaps, a part of it.
Share